User comments
Learn more about user comments
Written by

Marcello
Last update
Enabling comments from the CUSTIOMIZE - GENERAL SETTINGS section, the user has the possibility to comment on a video on-demand using the box next to the video. There is no limit to the number of comments a user can make but just have to wait five minutes between each posting.
Whenever a user comments on a video, the notification icon in the top right of the header menu is updated, for the administrator and the creator of the video being commented on only. All other users are only notified if they receive replies to their comments.
-> Click on the icon to access the comment management area.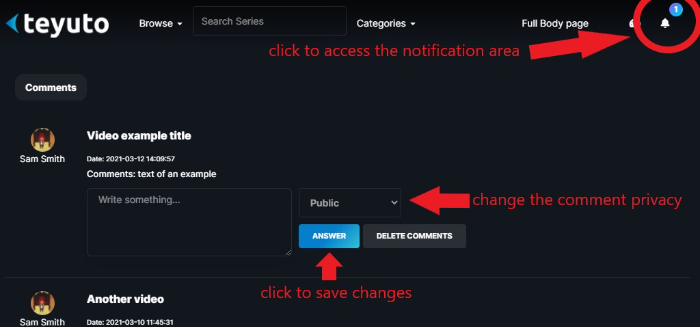 The list of comments is sorted from the most recent; only administrators and creators of the video can reply or hide comments, while all other users simply see the list of comments made and and the respective answers.
Did this answer your question?